Window Channels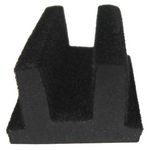 CHEVROLET 1925-38 CHANNEL VERTICAL WINDOW RUBBER 5/16"
This is the VERTICAL Rubber Window Channel for 1925-1938 Chevrolet, Buick, Pontiac, Oakland, Oldsmobile, Cadillac, Durant and other GM makes. It is an exact copy of the original. This channel is rubber with felt flocking and is sold by the foot. Used on all Fisher Body cars from 1925-1932 (except Cabriolet & Landau Phaeton). Fits into a metal guide channel and is held in place at the top of the window with nails or screws. It is also used as the lower run channel through 1938 passenger models. Rubber is 7/8" wide x 5/8" tall with 5/16" opening for glass. Used as rear window channel for all coupes with roll-down rear window. Compare to original before ordering. Most Fisher closed bodies except those using stainless beaded channel. Not for metal edged windows. See also 70-306 for channel for the top of each window. Approximate Measurements for: Coupe takes 14ft. for side windows and back roll up window CONFIRM MEASUREMENTS BEFORE ORDERING! This item is not returnable as it is cut to length per your specifications.
For 1926 1927 1928 1929 1930 1931 1932 Chevrolet Cars
---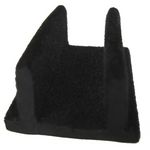 CHEVROLET 1925-1932 CONV'T SIDE WINDOW RUBBER 9/16"
This rubber window channel is felt flocked and sold by the foot. It is used exclusively for convertible models - Cabriolet & Landau Phaeton with chrome window frames on the door glass. This channel has 9/16" opening. Not for use on vehicles with no metal framework on glass - See also 70-1168 for 5/16" wide channel. Measure from the top of the window opening down to the lower window stop, add up total inches and divide by 12 to get total number of feet. Used on most GM convertibles in this era.
For 1925 1926 1927 1928 1929 1930 1931 1932 1933 1934 1935 1936 1937 1938 Chevrolet Cars